If you want to be successful in the business you are running, you need to bring in some healthy cash flow. To have the cash coming in, you need to have customers coming in at a steady pace (if not growing). Customers are what keeps your business going and if there are no emails or phone call pouring in, there is no one to sell your services to. Plumbing is one such industry where you should be able to find a decent amount of customers if you target them the right way Plumber Marketing.
Plumbing is one such industry where you should be able to find a decent amount of customers if you target them the right way. It's not just about fixing some pipes, there is more to plumbing than that.
Even though you may come across a few DIY loving customers who love to fix all the problems on their own, but there is quite a larger population who is searching for licensed plumbers near their homes who can come and save their day!
Why should plumbers use internet marketing?
Plumbing being a very competitive market, where your customer set is mostly limited to the local people (may be within a 30-50 mile radius) from your location you need to be very focused on getting more and more leads.
The traditional way of marketing, where plumbers would place ads into local newspapers, distribute flyers and maybe even do TV advertising don't seem to be working that good and can get expensive.
Apart from that, the generation we are working with would always look up to the Internet for the answers and their everyday challenges. This creates a need for investing in Internet marketing and growing your business with it.
I have helped a lot of businesses, including plumbing, increase their presence online and generated leads for them. As a business owner, I know how difficult it is for someone to do research for things that are not your specialty. If you have landed here, that mean you have been searching the plumber marketing tips and ideas on the internet.
From my experience on what works well, I have compiled a list of  14 marketing ideas that you can help your plumbing business stand out of the competition, that if you follow closely you will surely see some great results:
Online Marketing Strategies For Plumber:
Nowadays, no one has the time to go to their neighbor asking for a referral for a good plumber they always used to work with. People, first prefer searching online for products or services they are interested in and that has put a lot of importance on focusing on online marketing channels.
1. Get A Website
The first and the foremost thing any business owner needs these days is a functional website that is ready to attract customers. Having a website builds your online visibility and increases trust in the minds of your visitors.
There are a few things that you need to keep in mind when designing your own website. Planning and designing your website's layout the right way, so that its ready to target the right customers. Check these 100+ plumbing websites for your new design.
Another thing you need to focus on is to make sure all the contact information like your current address, email address and your phone number mentioned on the website are recent and are up and running. You don't want customer landing on your website, but losing all the leads and inquiries just because you made a typo on your contact information.
According to SmartInsights, in the year 2017 mobile minutes spent online in the USA comprises of 71% of the total digital minutes spent. That is a lot of time spent online from the smartphones or tablets, and it proves the importance of having a responsive website design.
Responsive websites are those that are designed by keeping the user's environment and behavior based on the screen size of the device they are using. In short, if you are browsing a website on the PC or a laptop and check the same website on your smart device the layout of the pages should not be deformed.
If designing a website is something you cannot do it by yourself, hire a professional web designing company to get your task done.
2. Submit To Local Directories
Plumbing being a local business, your potential customers are going to find you through local business listings and that is way having your business listed in local directories is vital. No one saves the hard copies of local business directories like Yellow Page book to look for local business.
People have shifted the way they search for businesses, they rely more on trusted business directories.
Adding your business to these directories will build trust and increases your chances getting found easily by your customer. Some of the most popular online local listing business directories are:
Here's a list of 50 most popular online local business directories that you can list your business on to.
3. Search Engine Optimization (SEO)
Search Engine Optimization (or SEO, in short) is a technique which works by adding relevant and related keywords to your website's content. That is known as On-page optimization, and that includes optimizing your page titles, meta tags, image alt tags and creating meaningful and valuable content around it.
When someone searches for your keywords in your industry online, Google crawls your website and finds those keywords on your page, and that is how it knows if it's related to the search and that it needs to show it in search results.
Finding the right keywords is very important. If you don't know what your targetted audience is searching online to reach businesses like yours, you are never gonna rank for their searched terms and that means no business is coming to your website.
There are some great keyword research tools available out there, that can help you find the right keywords that you should be working on. Here are the 2 keyword research tools that I rely on and use all the time:
Now the thing is, even if you have tools to help you how do you choose the keywords to target, from that long list?
Google Keywords Planner
Go to Google Keywords Planner. Or search for the term "Google Keywords Planner"
Click on the Google Adwords link that shows up.
Login into your Google (Gmail) account. If you don't have once, you can create one for free.
From the top menu go to Tools -> Keywords Planner
From the section that reads "Find new keywords and get search volume data" select the first option "Search for new keywords using a phrase, website or category"
Enter your keywords that you are targeting. I have used "Plumber" as my keyword.
Under the tab "Keyword Ideas" you will see the list of keywords that people are searching and other details related to it.
The question is which ones should you select and implement in your website's content. If you check the list of keywords, there is a column that shows "Avg. monthly searches". Filter the ones that have a higher monthly search volume and a lower competition. A low competition simply means it's easier to reach the top positions faster.
In this case, we can target generic plumbing keywords that are common for your business like: "plumbers near me", "local plumbers", "plumbing services", "emergency plumber" and so on.
Targeting the specific services totally depends on whether you offer those services or not. And that can be: "toilet repair", "drain cleaning", "clogged drain", "clogged toilet" and so on.
SEMRush
I made the same search on SEMRush to analyze my keywords further. And the good thing about SEMRush tool is that it provides a lot of detailed analytics about the particular keyword and shows a lot of related keyword ideas that can be targeted. You can also see the search trend of that keyword.
If the search trend for a keyword is going down, people are losing interest in it and its advisable to target keywords that have an upward search trend. SEMRush is really helpful when you want to keep an eye on what your competition is doing on the internet.
Apart from targeting general, specific and long-tail keywords focus on Geographic keywords as well. By doing so you will be able to rank higher locally and help customers in your area. Though keep in mind, not to mention geographic locations that do not fall in your vicinity.
4. Social Media Marketing
Out of 3 billion internet users, over 2 billion of them have active social media accounts. According to Hubspot, 92% of marketers in 2014 claimed that social media marketing was important for their business. If you are not using social media marketing for your business, you are losing a big chunk of the pie.
Social Media is a great place to interact with your customers. It helps you build a stronger relationship with them and win their trust. When you interact with your audience on social media, you get to know what them at a higher level, find out what their needs are and you can then offer them your services.
By putting your time and money into social media marketing you can increase your brand awareness, build loyalty and trust amongst your customers, get better insights on them, get more leads and convert those leads into customers.
What can plumbers possibly do on social media?
There are a lot of things you can do on social media like:
Share some DIY videos to help your customers out. They are likely to trust you more because of your transparency. And there are still a lot of things they won't be able to do it by themselves. When they have a bigger plumbing emergency, it's highly likely that they will give you a call! (Tring, Tring: you have a customer!)
Offer special deals and coupons, just for your social media followers. Create special offers in exchange for their email. Emails are like gold for any business, because you will be able to reach out to that customer (email) in future.
Run social media contests and sweepstakes. Contests and sweepstakes give business to get a lot of exposure and increase their brand awareness.
According to Ambassador, the referral marketing platform,  71 percent of consumers who have had a good social media service experience with a brand are likely to recommend it to others. How do you find out which social media channel is right for you?
You can just start out with all the social media channels right away, as you don't know where your audience is! Find out who your target audience is and what social media channel are they using the most. That is where you can to walk towards.
Start building relationships and increase the trust level with your customers so that they have you in mind whenever they have a plumbing emergency. Build your Social Media Marketing Strategy right away, if you don't know how and where to start your planning for one, refer to this free guide on how to build a social media marketing plan.
5. Paid Advertising
This is a type of marketing model used to promote a business online. where you run paid ads on the search engines and the advertiser (in this case a plumbing business) pays a small fee when a potential customer clicks on that ad and lands on your website.
Paid Advertising brings in traffic and increases exposure for your business.
The best part of this search engine marketing method (compared to the traditional advertising) is you will only be charged when someone clicks on the ads you run.
Running paid ads on search engines is a common practice and has a lot of benefits:
You get faster results:
the reason behind that is you don't have to wait for the SEO tactics to work or optimize your keywords for the search engines. With PPC ads you set up your account, specify your target keywords, provide a budget for the ads and you are ready to take your ads on the Internet. It's easier said than done, and I am not trying to scare you by saying that but you just want to do a good amount of research on the keywords, the ad text, and your spending limits so that you don't run out of budget within the first month or end up using all the budget on the wrong keywords that can possibly never convert to leads. And yes, that can happen that you get clicks on your ad, but when the customer lands on your website he/she never converts to a customer.
Reaching the right audience:
Unlike any other paid advertising model, here you can select where, when and to whom should your ads be displayed, and segment your ads to the right market. When you build your PPC campaign you can select from a lot of variable factors like gender, age group, occupation, keywords, location, website, device specific preferences, time and date and a lot more.
Transparency and measurable results:
when you are spending your hard earned dollars on ads, you want to know if it's generating any profits or is it just a waste of time and money.From the time your ads go live, you can measure everything from the cost, views, clicks, visits and a lot more. That will give you a clear idea of what is working and what is not.
Full control over your ads:
When you measure your results by analyzing the reports and the KPIs, you will be able to find out which of your ads are performing well, during what time of the day are you getting better results and adjust your ads and keywords accordingly.
Exposure and Brand Awareness:
Who doesn't like free marketing? With the PPC concept, you already know that you only pay when a user clicks on your ad, right? Just imagine, you are running an ad, not everyone clicked on it, but in turn, you are generating a lot of views for your ad and your business's name without paying a dime for it. Isn't that cool, that you got free exposure for your business and didn't have to pay for that!
There is one thing that you should always keep in mind that PPC cannot run on auto-pilot, never and will require a continuous monitoring and iterations whenever you see some of your ads under-performing than they previously used to. PPC is not a replacement for SEO, but instead, they complement each other and generate faster results
6. Cross-Promotion
Cross-promotion is a good way to tap into a customer base that you were unable to reach to before. It's a great way to promote your business by increasing your exposure and target an established audience while saving a lot of time and money at the same time.
Cross-promotion is a good way to tap into a customer base that you were unable to reach to before.
How can plumbers use cross-promotion marketing to their advantage?
Use the power of Social media
Social media is the most popular channel to easily collaborate with business for cross-promotions.
– Find businesses that compliment your business and provides an additional value to your customer base.
– Then send out an email to each of them asking that you want to collaborate with them and that you both can promote each other's product/services on your social media.
– You can create a video demonstrating your partner's services in return for the same, or do some kind of giveaway when they connect with both of you on social media.
Co-sponsor for a good cause
Co-sponsoring an event can be helpful because it cuts the cost into half while still giving you an opportunity to connect with other business's customers.
– When you have chosen a cross-promotion partner (for instance a landscaper), see if there are any public parks that need some plumbing service and want to upgrade their landscape. With a joint collaboration, you will be able to advertise your services there and get some PR.
– Host a joint seminar, and show some DIY plumbing tricks and small hack that will be helpful to your audience and find something interesting and related to your partner's business that will keep your audience engaged and can add value.
Provide discounts on the invoice when someone purchases from both the businesses. For instance, anyone who purchases from both the business on the same invoice gets a 10% discount. That converts a customer into making a purchase because plumbing charges can be higher when there is a big emergency in the house
Who should you reach out to for cross-promotions?  
Find out other business who have similar business interests as yours, (not exactly the same, I said similar) and reach out to them. Think of who all needs your services, it will be people living in houses, apartments, business (with a brick and mortar store), etc. That is your target audience. Now list all the other services that this target audience of yours would need. Find all the cleaning services, carpet cleaners, gutter cleaners, other contractors, repair companies and other local business in your area and collaborate with them to cross-promote each other's services.
7. Blogs
Every business, no matter what industry they are in, must have a blog on their website. That is your space!! Use it share updates, experience, news and valuable information with your customers.
Content is the king, and search engines love content. Building unique and engaging content around your keywords helps you get your audience's attention.
Building unique and engaging content around your keywords helps you get your audience's attention.
Plumbing companies can write a blog on topics like:
How to save money on water bills?
How to prevent pipe breakage in freezing cold temperatures?
How to fix a clogged drain?
Do an extensive keyword research and write your content around the keywords that your audience is looking for answers online. Incorporate keyword variations and keyword phrase in your content to rank well for a variety of keywords.
Well written blogs generate a lot of social shares, generates comments and get a lot of backlinks, which helps you rank higher in search engines over the time.
8. Demonstration Video
DIY videos are all over the Internet and everyone keeps on searching for them on the YouTube. Anytime, someone has a plumbing emergency they turn to YouTube to find the answer. While reading blogs and following step-by-step instructions can help, it can get time-consuming and in the situation of panic, there are chances it won't work.
Following along, with the instructions while listing to someone on a video is very informative. So next time you go to your next customer's place to fix a plumbing emergency, ask for their permission and start filming the video of what you are doing.  You can demonstrate a lot of things like:
How to fix a leaking pipe?
How to fix a leaking toilet?
How to change a bathroom faucet?
Bathroom renovation tips
Look at this video on Youtube that teaches its views how to repair a shower valve, which was uploaded 6 years back and has over 2.4 million views, 3,384 likes, and 630 comments! Isn't that awesome? Having transparency with your audience and providing solutions to their everyday problems builds trust.
They will start to associate your brand with your helpful and informative videos and will contact you for major plumbing emergencies.
9. Live Video Streaming
When we just talked about demonstration videos and DIY videos there is another kind of video engagement you can use to get your audience engaging with you in real time, and that is live streaming. After the launch of Periscope, Twitter's live streaming app a lot of other social media platforms have launched their own versions of it.
Live streaming is helpful because while you talk over the video you audience can send their reactions and type in questions (in form of comments) which you can answer right away.
As a plumber, you can stream live videos regarding:
Ask me anything about faucets
How to clean drain and what all things do you need for that?
You can live stream video from your desktop or your smartphones. Here are a few apps you can use to stream live:
Facebook Live
Youtube Live
Periscope by Twitter
10. Online Community Engagement
Online interactions with users bring in a lot of traffic and lead as people have started engaging in a lot of Q&A communities and niche groups on social media.
Here's a list of places where you can find questions people have related to plumbing, or join online groups and take part in forums and discussions: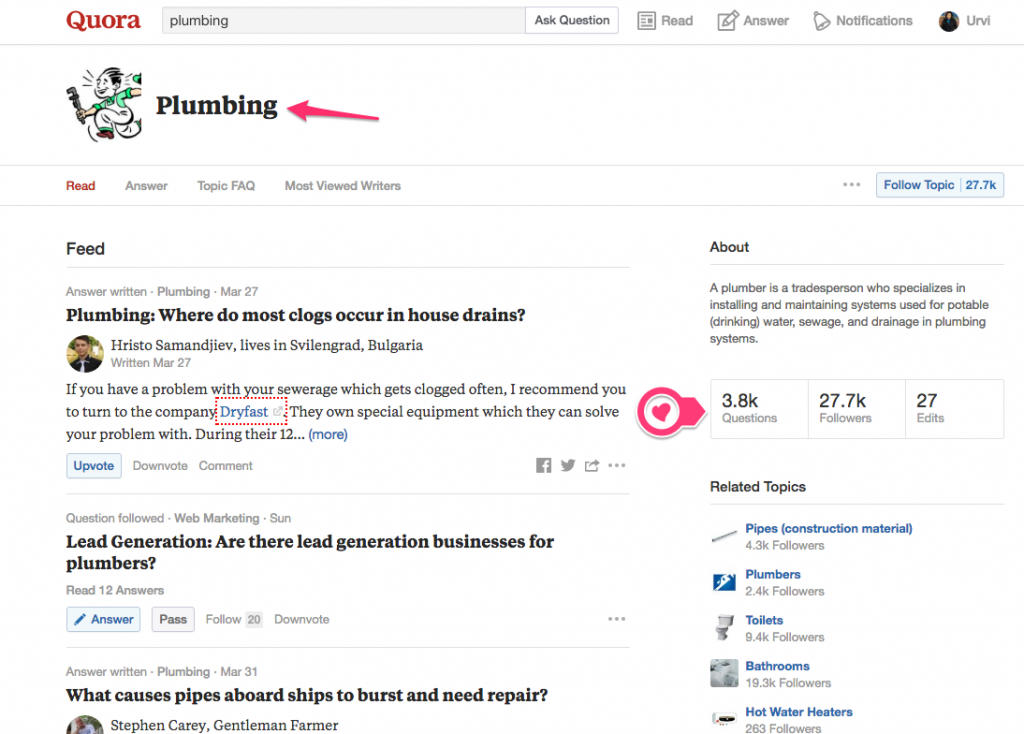 Taking part in the online community gives you an opportunity to showcase your skills and expertise, build trust with your audience and create a brand awareness for your business.
11. Build Good Reputation
Providing good service and building a good reputation takes years of hard work. 92% of customers read online reviews and 94% of them choose businesses with over 4-star review. That means that even if you have 1 pissed off customer, out of 100 there are changes that the pissed off customer will go online and leave a bad review. Those reviews affect your business negatively, and no one wants that!
After a job well done, ask your customer leave a feedback on Facebook or Google Business or Yelp. Because in local listing your reviews show in search results and highly affect customer's decisions in choosing you over other plumbing companies.
12. Whitepapers
A whitepaper is a detailed explanation of products or services you provide or the technologies you use in providing your services. This document is solely created for marketing reasons and it helps your customer or future customer learn more about your services, or solutions or products. It should be backed by persuasive and factual evidence, showing which services or products are better and should have a clear intention of helping your reader rather than forcing them to make a choice you want them to make.
When writing a whitepaper, don't just pitch your products or service, you reader is more interested in learning how your services and products can make their life easier.
Plumbing companies can write whitepapers on topics like:
How to use <your product name> to eliminate lead from water?
How do you determine if the water is hard?
Offline Marketing For Plumber:
Apart from marketing your business online, which you should be focusing on more, there are a lot of ways that you can create a buzz in the local area and get your audience's attention, in turn, getting your plumbing business growing:
13. Join an HOA
Search your local area and find Home Owner's Association that are ready to work with you. A lot of them don't have a designated plumbing company, instead, they would just go online and find one when they encounter an emergency. So why not reach out to them and ask them to put you on their list, so that you are the first one to get a call when the need arises.
Attend meetings even within your own neighborhood, or local schools and parks and educate them about plumbing and teach them some basics, so that they think of you first whenever they need one.
14. Network In Local Community
Networking build a lot of connections! Attend local events, corporate promotional events and meetings, take a bunch of business cards with you and promote your business there.
Meetup.com is a great way to organize events or find existing meeting events in your area where you will be able to meet new people and build connections. It's even a great idea to host one in your area, and the exposure and brand awareness you get with this will be unreal.
Attend meetings even within your own neighborhood, or local schools and parks and educate them about plumbing and teach them some basics, so that they think of you first whenever they need one.
15. Partner With A Builder
Partnering with a builder with gets your hands laid on a big plumbing job! Find builders who are expanding into newer areas can easily get you sub-contracting work for a large number of homes.
Provide competitive rates and negotiate the terms and conditions with your partner, and you should be good to go!
16. Brand Yourself
Branding is everything! For instance, you are driving and you see a giant sized yellow-colored letter "M" and the only thing you can relate it to is McDonald's or you see a big purple bell you know that's Taco Bell, without a doubt! That's branding.
Big companies spend so much money on branding that people start associating colors with brands! But, when you don't have a big budget like those brands there are few other ways you can make an impact on how your customers can relate something to you.
How can a plumbing company brand itself?
Know how you set yourself apart from the competition. Why are you different than the other plumber down the street and why should someone go with you?
Design a great logo in a way that represents what you do but in your own unique way. It definitely doesn't mean that you spend all your budget on logo design, but you still want it to stand out.
Write a great tagline. That is what defines what you do in just a few words!
Define a unique business voice for your brand. It could be anything from comical, controversial, friendly, professional or promotional.
Brand building is a never ending process, and you should incorporate your brand into everything you do. Stick to your brand's voice and always advocate your brand.
17. Referral Discounts
Leveraging customer discounts is a great way to get your existing customers to come and get new customers. Referrals from trusted sources hold more weight than choosing an unfamiliar plumbing company from the internet. Trust matters.
Referral programs generate more leads than cold calling.
Build a refer-a-friend program for your business, by offering cash credits for their future purchase. Anytime you are providing plumbing service, along with the invoice hand them a copy of your referral program.
Structure referrals to offer discounts to both the referred person and the referrer, creating a win-win incentive. For example, any friend who uses our plumbing service gets a discount of $10 and so will you.
Build a refer-a-friend program for your business, by offering cash credits for their future purchase. Anytime you are providing plumbing service, along with the invoice hand them a copy of your referral program. Design your referral, so that both the parties: the person being referred and the person who referred them get a discount.
For example, any friend who uses our plumbing service gets a discount of $10 and so will you.
Dropbox
Dropbox used this concept and went from 100,000 to 4,000,000 users in 15 months. Their referral program said, when one person who has Dropbox refers another, they both get a 500MB increase, pending signup.
Airbnb
Airbnb used a similar concept for their referral program, which reads "When you send a friend $25 in Airbnb credit, you'll get $25 when they travel and $75 when they host." When they first started out this kind of a referral program, they had 2,161 existing members, bringing in 2,107 new members.
Referral programs generate more leads than cold calling.
Conclusion
Finding customers for a local business like plumbing can be challenging, but it's not at all impossible! These are just a few Plumber Marketing Agency that can help you get started with your internet marketing. Remember, the effectiveness of these ideas depends on your consistency. If you aren't diligent, another plumbing business could replace you and your customers.
Set a weekly slot for strategy management, tracking, and adjustments. Share missed or successful plumbing growth ideas in the comments.