Business is an organizational entity which can work only when you have a full proof plan. "Your present circumstance don't determine where you can go; they merely determine where you start" – Nido Qubein. This quote best fits in when you don't have a specific goal to accomplish.
How are the goals, objectives, strategies, and tactics different? Though all the four terms are used interchangeably there is a fine line between them.
"Your present circumstance don't determine where you can go; they merely determine where you start – Nido Qubein"
So, if you wanna reach somewhere you will have to set a predefined goal. Now, having a specific goal is not enough, you will have to build the strength in yourself and put in efforts and work hard on the struggles you will be going through so that you keep on growing with passing time.
So, now before getting started, I would like to share a few things that people get confused on the start of their career in establishing their business entity. Many people get confused with the concept of Goal, Objective, Strategy, and Tactics that are to be implemented to build their business from scratch to a renowned platform.
'GOST' – is the basic foundation of your business. If you want your business platform to work and flourish then you will have to plan and execute "GOST" in a well-organized manner.
Here 'GOST' stands for:
G – Goal
O – Objective
S – Strategy
T – Tactics
These are the four main aspects of your business which can either lead you or lag you behind. Many business owners frame their objectives, strategies in one single goal. They often fail to understand that these terms are different and convey a distinct concept at different levels. In the following lines, I have explained these terms elaborately to make it clear.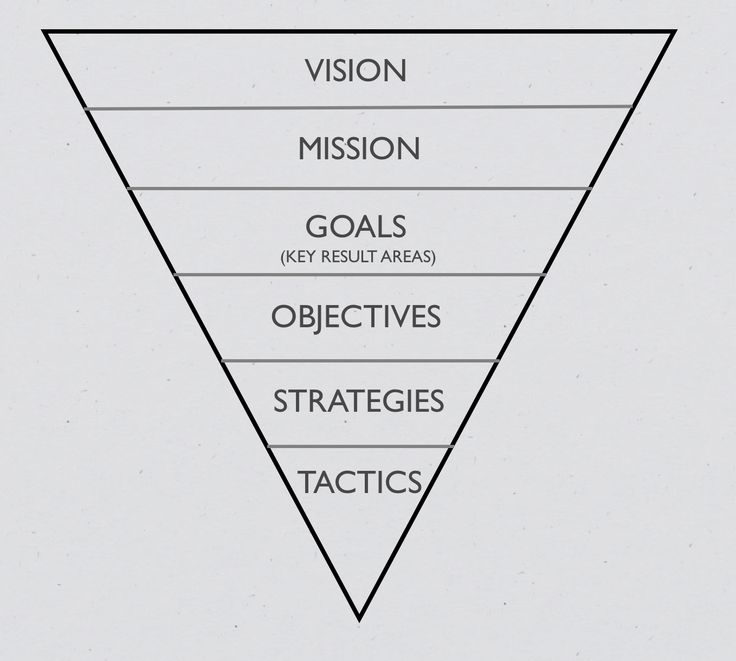 Goals
Goals are dreams that you want to become reality. Goals can be short term or long term and are not necessarily tangible. It focuses on 'What' you want to achieve and not on 'How' you want to achieve it.
Business Goals
Goals are used to help the business grow, this is what you understand about business goals, but deep inside it has vast meaning in eyes of marketing. The goal is the process of deciding what you want to accomplish and doing every possible thing to achieve it.
Goal setting emphasizes that goal setting is a three-part process. For better goal setting you have to do more than just set the goals. You have to try everything to accomplish it which means you have to set plans to make it happen. Make it clear in your mind the personal goals that you define as a new year resolution and business goals have a different purpose but they share a similar goal setting process.
The formula and strategies that work for business goals also work for personal goals the only difference is the strategies you use to accomplish your business goals will give you brighter success with achieving personal goals.
Goals provide the business with a structured framework. It directs the company in the right direction and assists the company to understand whether the firm is successful or not. Therefore goals must be present in every business plan. Goals are a stepping stone to an end purpose of your business.
"Goals provide the business with a structured framework."
Why are Setting Goals Important In businesses?
When you don't know what you want to do, you are never going to get up push yourself to take action. Only when you are determined to achieve something, it drives you to get going and work towards that goal.
– Helps The Business take specific steps in order to succeed
Business Owners will be well guided if they know where they want to reach, what steps should be taken to achieve their goal. For example, athletes know they have to win the competition, for that they take proper steps like practicing, taking healthy supplements, doing regular exercise to remain fit this is the steps that can help them achieve their goal. So similarly, if a business owner knows his goal he can know the steps that can help him to achieve it.
– Goals sustain future growth
Entrepreneurs have sizeable egos, I would say this is a positive point as every businessman needs some level of ego to complete the risky task. By setting wide – goals a business owner will be self-motivated to accomplish his goals.
Objectives
Objectives are a more confusing term with the goals. If we ask a group of professionals the difference between objectives and goals you cannot get a smart answer. No wonder they are confusing terms as the difference is a minute.
Goals and objectives go hand in hand, goals define the objectives while objectives without goals are going blindly wherever the direction is guiding. Objectives will help you gain what must be accomplished to achieve the goals.
Objectives are always targeted and number focused, unlike goals which talk about the bigger picture.
Objectives should be accomplishable and measurable, that lets us determine whether we are making any progress or not.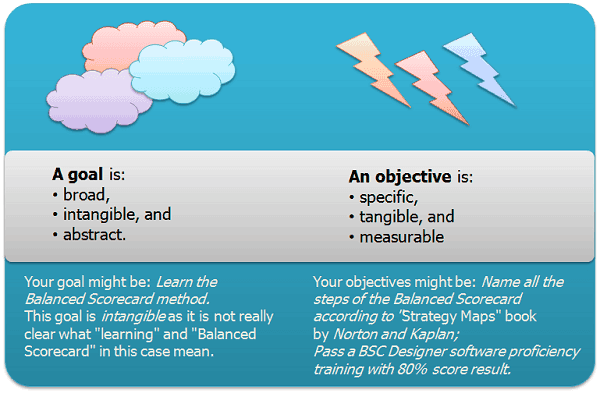 Business Objective
When you have set a goal or a target that you want to accomplish than the next step that you should take is to plan and set a fixed time limit to achieve the targets. This will lead you to take small steps that will help you move a level up towards accomplishing your goal. Some of the main aspects that come under Objective of any business enterprise are:
Existence
When you have just started as a small business enterprise then the existence becomes a very crucial part. To be a stand-alone startup site is a very difficult thing and if you want your survival in the market then planning short-term objectives in order to reach your goal becomes a necessity.
Sales Growth
Having a proper sales mechanism is very important for an organization's existence. No matter how well your manufacturing unit is or how efficient your technology or financial investment is? But if you are not able to match the sales growth then all your efforts and hard work will go in vain.
Profit Satisfaction
If you want to keep moving in your field then it becomes important to make some rate of profit. Profit ratio of your company is the deciding factor of future existence in the market.
The objectives always keep on changing with respect to time. The reason behind this is as follows:
The change in the technology may lead to change the product design and hence the objective of the product or services may change.
Depending on the change in market value of product the promotional objective changes.
The competitive environment in the market forces the company to get even better with passing time and hence changes follow. This will result in changing objective.
Strategy
The strategy is basically the plans that will help to achieve goals. You have to decide which plans can cope up with the goals. The strategy can also be the solution to a problem.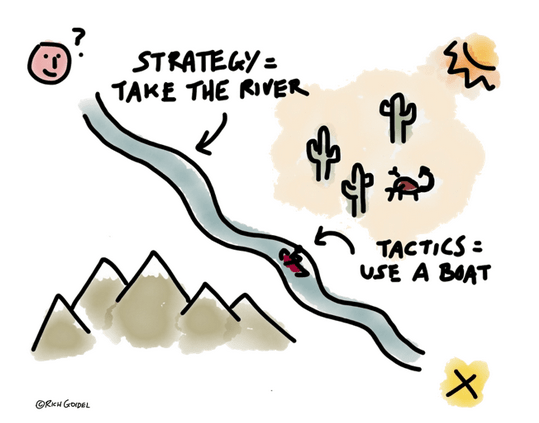 Business Strategy
As you know that objective is considered as the subset of Goal but strategy is not a subset. The strategy is about what's And not how's.  It is the process of identifying what you will have to do in order to fulfill your objectives.
When you choose to serve a client you will have to clearly specify the complete no-no lists that your company ethics don't follow. If you miss this or could not play your cards well here you will not be able to stand in the market for the long run. Taking a decision and sticking to it is very important. If the client realizes the quality of the services you deliver is up to the mark then you will not have to compromise for anything.
Here are some principles that you should be following to build a strong business foundation:
Focus on uniqueness
When you have a very clear vision of your company and its product and/or services then the one thing that you should be focusing is in bringing out the uniqueness in your business in the best way possible.
Many have the misconception that attaining some height in business is like winning or losing in a sports game. But the actual scenario is completely different. In the field of business, there are so many diversities. All of them have a certain level of competition but it's not at all you will and I loose kind of competition, there can be many winners and it depends on the uniqueness they show in their business strategy.
Profit ratio
Never setback of growth or generating large stock market instead, focus on making a profit from your strategies. You should not focus to grow your business within a short span of time or focus on having a large stock market. This is not going to help you in the long run of your existence in the market. You need to set yourself to make profits with your business, this will eventually result in the growth of your business. Hence, you will be able to walk forward with fewer hurdles in your path. This will help you reach a platform where you will be able to make additional profit rates.
Know your industry better
It is important to know the industry better as it's a large ecosystem where lots of diversities can be found. Knowing your industry better is a source which will lead you to have a wider idea of the strategy that you are supposed to plan in order to reach your goal. If you know the industry in a well-defined manner then it is sure that you will be able to understand the elements required to grandstand your uniqueness in the market.
Strategic planning/ scenario planning
You will have to be calculated of the future consequences that you are going to face with whatever decisions you will be taking for your organization. Knowing the competitors well and the market value of your products and services along with the services provided by other becomes a crucial part in taking next step for the development of the organization depending on the long-term goals planned for the betterment of the organization.
Strategized your business activities keeping the basic business ethics in your mind that I have mentioned under Business Strategy.
Tactics
Tactics are tricks and patterns developed to drive and support the strategy and to get closer to the objective. For example: If we take military as an example the tactics are defined as the techniques for using weapons. So tactics are the specific techniques that go hand in hand with the strategies.
Business Tactics
Tactics, strategy, and goals are often used terms which are very confusing to maximum people.
Strategy and tactics are both 'how' to achieve goals.
Tactics are the actions taken to reach a particular point whereas strategy is defined as a plan, which helps the organization to achieve its objectives.
If you have many strategies to be implemented then you will have different tactics for each. In short tactical planning is a part of strategic planning, therefore, both are supposed to work together. The tactical planning is carried by a management team which has very responsible people for getting the work done.
For them, it is very much necessary to understand the strategic goals. Tactical plans are popular among large businesses that don't mean small business don't need it but because small business owners don't have time to formulate them. Tactics moves are bound with time.
But I will suggest if you own a small business and have not taken a time to implement business strategy or tactics, try to make goals and plan them strategically. It may not be easy but the results will be worth.
Conclusion:
I think now you must be very clear with the difference between Goals, Objectives, Strategies and tactics and how these terms are used in the business.
Whether one – person company, one department, one small company or a huge multi – national company these are the essential points to take the business to an unpredictable growth. Before you set your marketing objectives you need to consider these as important factors.
Develop the goal and plan it strategically, hold to achieve it. Be flexible with the tactics that can help you move towards fulfilling the strategy.